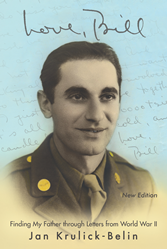 PHOENIX (PRWEB) OCTOBER 15, 2021
Jan Krulick-Belin was just six years old when her father, Isidore William Krulick, who went by Bill, passed away from cancer in 1960. While she has fond memories of their brief time together, she never truly got to know him as her mother rarely spoke about him again. However, almost 50 years later, her mother gave her a box of letters, making Krulick-Belin promise not to open them until she passed away. Five years after her mother's passing, Krulick-Belin was finally ready to open the box. It was filled with 100 love letters her father had written to her mother while serving in World War II. It was then that Krulick-Belin really began to understand the kind of man her father was.
"Love, Bill: Finding My Father through Letters from World War II" chronicles Krulick-Belin's life-changing pilgrimage of the heart to find the father she thought she had lost forever. The letters led her on an extraordinary journey following her father's actual footsteps during the war years, leading to unexpected discoveries from Morocco to Paris to upstate New York. In the process, she learned more about the war in North Africa, the fate of the Jews in Morocco, Germany, and France, and her parents' enduring love story. The book also features many of her father's letters. She plans to eventually donate the originals to The Center for American War Letters.
"Seemingly ordinary, yet eloquent love letters sent to a GI's future wife during wartime, proved to be a never-imagined godsend for their yet-to-be-born daughter. Not only did they lead Jan on a quest to bond with the father she lost at a young age, but they offer us a deeper insight into every soldier's struggle amidst the chaos of war to hold on to his dream of returning to the life and loves he left behind. It's a story that captured my heart…a marvelous work." —Captain Louis Matjasko, USN Retired; Executive Director, Circle of Change Veterans Dog Program
"Krulick-Belin puts her memories into words beautifully…the narration is detailed and descriptive, and she takes readers on an unexpected and remarkable journey…the amazing letters, the spiritual undertones, the Jewish connection, and lastly, the descriptions of World War II, make the book an amazing read." —Readers' Favorite review
The themes of love, loss, and perseverance featured in "Love, Bill" are sure to touch the hearts of veterans, families of veterans, and all readers alike while inspiring them to connect deeper with the ones they love. Her story will also encourage readers to learn more about the events of WWII that took place in North Africa. To explore more, please visit https://www.lovebillbook.com/.
"Love, Bill: Finding My Father Through Letter from World War II"
By Jan Krulick-Belin
ISBN: 9781480892903 (softcover); 9781480892897 (hardcover); 9781480892910 (electronic)
Available through Amazon, Barnes & Noble and Archway Publishing
About the author
Jan Krulick-Belin is a museum and art consultant and art and jewelry historian with over 40-years of experience at institutions such as the Corcoran Gallery of Art, Denver Art Museum, Beaumont (Texas) Art Museum, and Smithsonian Institution. Retired as Director of Education at the Phoenix Art Museum, she still works with museums, art organizations, and private collectors, and served as a guest curator at the Sylvia Plotkin Judaica Museum in Phoenix. She lectures widely on art and jewelry history and has a bachelor's degree in art history from the State University of New York, Binghamton, and a master's degree in museum education from George Washington University in Washington, DC. She grew up in New York City and currently resides in Phoenix, Arizona.
For Interview Requests & Review Copies contact:            
LAVIDGE Publicity                    
Meghan Bowman                        
mbowman@lavidge.com
480-306-6597